Vintage spurs made by the best bit and spur makers can be found here for your viewing enjoyment. Spurs from makers such as Crockett, Kelly, Adolph Bayers and Billy Klapper just to name a few of the top craftsman.
Pictured above and below is a pair of hand forged one piece spurs with nickle silver mounting and Texas style wheat stalk engraving. These handmade spurs are made by Billy Klapper, Pampa, Texas.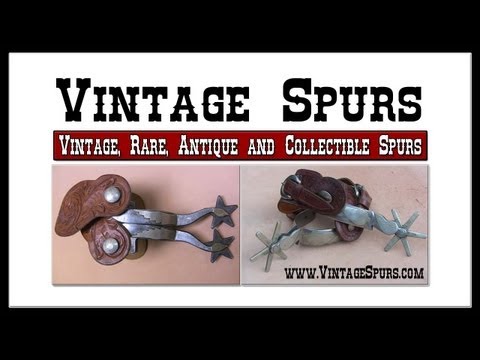 Vintage Spurs Video
To give you a idea of the handmade spurs in this YouTube video here is a timeline of what you see.
0:02 Vintage Spurs
0:04 Handmade spurs by the best bit and spur makers
0:07 McChesney spurs
0:11 Kelly handmade spurs
0:18 Old kelly spurs with nickle spur rowels
0:25 Nickle silver steer head
0:30 Copper mounted spurs made by Kelly
0:35 Beautiful hand engraving
0:50 McChesney Gal leg spurs
0:55 Billy Klapper handmade spurs number 281 S
1:00 Spur leathers made by R S Cearnal Gainesville Texas
1:06 Spurs made by J R McChesney Gainesville, Texas
1:12 Very rare Eagle Head Spur made by G A Bischoff and Co.
1:26 Vintage spurs made by Kelly Bros
1:38 Lady leg spur made by G A Bischoff
1:53 Eagle head shanks on the spur made by Jerry Wallace
2:06 Extremely rare spurs made by Kelly X Spur maker marked
2:37 Vintage, rare and antique cowboy spurs
2:43 Thanks for watching and please subscribe to my YouTube Channel and I would appreciate a thumbs up.
2:45 You are welcome to visit VintageSpurs.com